October 30, 2019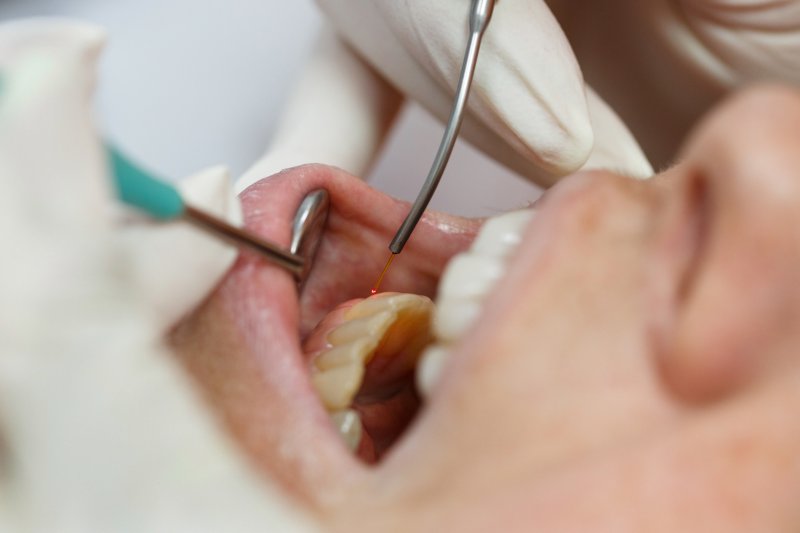 Did you know that gum disease is the most common reason adults lose their teeth? If you want to keep your smile intact, you'll need to have the condition treated immediately before the damage it inflicts becomes irreversible. While the standard treatment for gum disease is a deep cleaning with metal tools, many modern practices have been turning to modern technology to offer their patients a potentially far more comfortable option: laser dentistry.
How Does Laser Therapy for Gum Disease Work?
During laser periodontal therapy, a small beam of highly concentrated light energy is directed at the gums and is used to carefully remove any inflamed or infected tissue. This exposes the tooth roots so that they can be scaled (meaning any built-up plaque below the gumline and around the root is scraped away). Thanks to the laser sterilizing the area and the scaling smoothing the roots so that bacteria can't easily reattach themselves, the treatment can both cure existing gum disease and prevent future infections.
What Are the Risks and Benefits of Laser Therapy for Gum Disease?
It should be noted that laser dentistry is a developing field that still needs to be approved by some medical authorities. In particular, the American Academy of Periodontology believes that more evidence is needed to demonstrate the effectiveness of the procedure compared to traditional treatment. Also, there has been some concern about whether the advertisements for laser therapy is promising more than it should.
That said, there are also several advantages of using lasers for gum disease, such as:
Improved Precision: Since the laser is so focused, only the infected tissue is treated or removed; the healthy parts of the gums are left alone.
Little to No Discomfort: Dental lasers are very gentle and don't create much heat, sound or vibrations as the work. That can greatly reduce the need for aesthetic during the surgery. There's also far less bleeding and swelling.
Faster Treatment and Recovery Time: Compared to traditional treatments, laser dentistry is much faster, and less time for recovery and healing is required afterwards.
How Much Will Laser Dentistry Cost?
The overall price for using laser therapy to treat gum disease usually depends on the extent of the patient's needs, but it can potentially cost less than traditional surgery by reducing the number of appointments and the amount of medication needed. In general, you can expect your dental insurance to help pay for periodontal therapy regardless of the tools used.
Do you know whether your dentist uses lasers at their practice? During your next appointment, take the time to ask about the kind of treatments available for gum disease and other oral health problems – as well as whether you might benefit from the use of a laser during the treatment!
About the Practice
At Pearl Dentistry, we use the latest technology and techniques to bring patients of all ages a variety of dental services, including gum disease treatment. In addition to using lasers for periodontal therapy, we can also employ them to relieve cold sores, remove small benign growths in your mouth, and expose impacted teeth. To schedule an appointment at our Denver practice, visit our website or call (720) 440-9296.
Comments Off

on How Your Dentist Can Use Lasers to Treat Gum Disease
No Comments
No comments yet.
RSS feed for comments on this post.
Sorry, the comment form is closed at this time.