Dental Team – Denver, CO
Fun, Passionate, & Highly Skilled
When you step through our doors, the first thing you'll likely hear is laughter coming from our team. We truly love what we do, and we can't wait to share it with you. We'll treat you like an old friend starting at your very first visit, providing personalized, 5-star service that will help your appointment fly by and leave you feeling refreshed and renewed afterward. Read on below to meet your smile's new best friends.
Elba, Patient Coordinator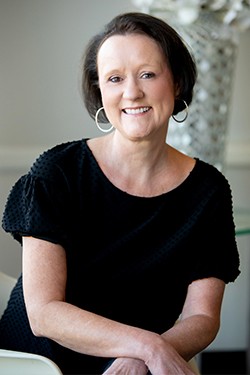 Elba has been working in the world of dentistry for 25+ years now! Originally from Hattiesburg, MS, she studied at the University of Southern Mississippi. Today, she always goes the extra mile to give our patients attentive, personalized care. She truly loves to make others happy.
Outside of working hours, Elba likes to spend quality time with family and friends, including her many nephews/nieces and great nephews/nieces. Her favorite hobbies are gardening and fly fishing.
---
Anna, Dental Assistant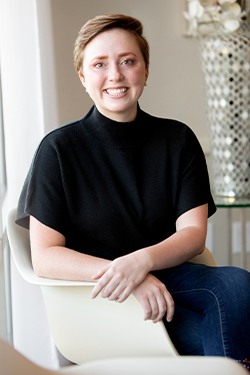 Anna's career in dentistry spans over eight years so far. Originally from Utah, she's having a blast meeting so many wonderful people here in Denver! She completed her education at Utah State University.
Away from work, Anna enjoys spending quality time with her four siblings, fly fishing, gardening, reading, and walking around Denver. She's also a HUGE Dolly Parton fan.
---
Alicia, Expanded Duty Dental Assistant (EDDA)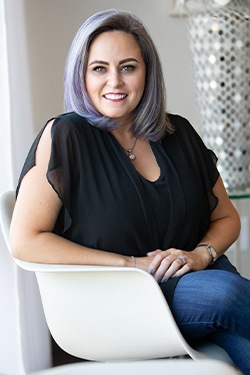 Alicia may have joined our practice in 2020, but she's been a part of the dental world for well over 25 years! She completed her training at Pima Medical Institute and Colorado University Dental. As one of our assistants, she goes the extra mile to provide exceptional care every day. She also loves seeing how smiles transform for the better from appointment to appointment.
A Colorado native, Alicia is the mother of four children and the grandmother of one beautiful, extremely spoiled granddaughter. She also has two fur babies. In her free time away from work, she enjoys having BBQ's with family and friends in the summer, riding ATV's, hiking, traveling, going to car shows with her hubby, collecting Camaro cars, dancing, cooking, and painting rocks with her grand-princess.
---
Kathryn, Office Manager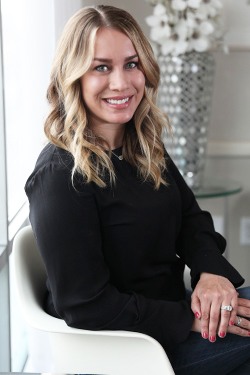 Kathryn has been a part of our team for over a full decade now, and we rely on her to keep the office running smoothly. In fact, she was Pearl Dentistry's very first employee! She received her Bachelor of Science in Communication from the University of Colorado with an emphasis on healthcare communication. She loves that every day in the dental field is different, from helping patients with dental emergencies to transforming smiles. She finds it extremely rewarding when our visitors begin to truly enjoy coming to the dentist's office!
---
Amanda, Operations Manager / Treatment Coordinator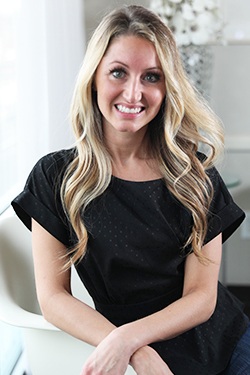 Amanda first got her start in the dental field over five years ago, and her career at Pearl Dentistry began in 2017. She completed her Bachelor's in Psychology and HR Management at the University of Wisconsin in 2012. She loves working for such a caring team and admires how the doctors always take the time to get to know each patient. She is very passionate about the power of smiles and the positive impact they can have on a person's quality of life. Building relationships with patients is her favorite part of this position!
Amanda is originally from Madison, WI and now lives in the Denver area. Whenever she's not busy at the office, you can usually find her hiking, kayaking, traveling, exploring new restaurants, and petting any dog she can.
---
Brooke, Dental Hygienist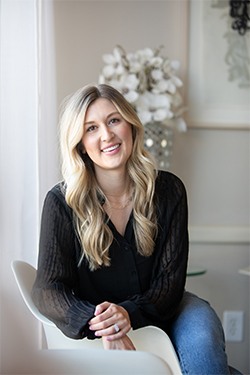 Originally from Tennessee, Brooke studied at Remington College in Nashville. She joined our team in 2021 with nearly five years of experience under her belt, she is also laser certified. For her, building long-lasting relationships with patients and educating them about the importance of oral health is extremely rewarding!
Away from the office, Brooke loves spending time with her husband, Tim, and their dog, Junebug. Since moving to Colorado, they have thoroughly enjoyed hiking, camping, and enjoying the great outdoors. Here's an interesting fact about her: she reads the Harry Potter series at least once a year!
---
Audrey, Dental Hygienist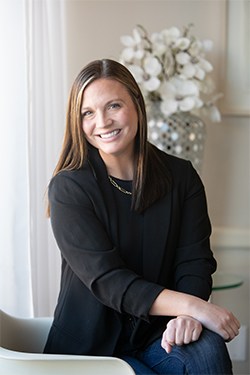 Originally from Macomb, MI, Audrey attended Ferris State University after high school. To continue expanding her hygiene knowledge she is also laser certified! Now, she is happy to be residing with her sister in Denver! She loves coming into work each day because it means she gets to work alongside an amazing team and help her community feel more confident about their smiles.
Audrey loves spending her free time outside the office being active. Hiking, skiing, and exploring new cities are some examples. However, her favorite thing to do is going to concerts and traveling for music!
---
Merita, Dental Assistant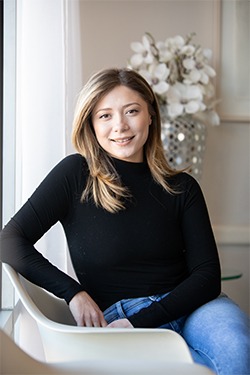 Merita is originally from Madison, WI! She moved to Colorado to be closer with her middle sister and has been a part of our team since October 2021. For her studies, she attended UW-Milwaukee and Madison College.
Merita has lots of interests outside of dentistry, including going to the gym, watching sports, going to concerts, and trying out new places to eat. Here's something you may not know about her: she's never broken a bone!