December 2, 2017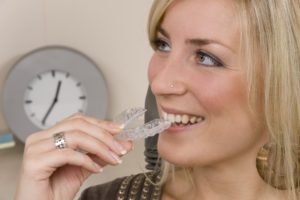 Invisalign is one of the most popular orthodontic treatments around the world, enabling people to finally get beautifully straight smiles without bulky metal braces. However, even if you're sure that it is the perfect treatment for you, you probably still have plenty of questions! You can learn all you need about the basics of Invisalign in Denver on our page right here, but in today's blog, we're going to answer a few more common questions our Invisalign patients tend to ask. We like to call them "Lifestyle Questions," and they'll help you gain a much better idea of what to expect during your treatment.
Can I whiten my teeth while using Invisalign?
People who choose Invisalign tend to be very conscious about their appearance, so many are concerned that it will prevent them from whitening their teeth. Fortunately, there is nothing about Invisalign that can prevent you from getting a pristinely white smile. Whether you choose our in-office or take-home professional teeth whitening treatment, you can do so without any concern that it will interfere with your Invisalign treatment. In fact, we often perform teeth whitening at the beginning of Invisalign so patients can have a gorgeous smile right from the very start.
Will Invisalign affect my diet?
One of the best parts about Invisalign is that it allows a patient to eat whatever they want during their treatment. All they need to do is take out their trays before they enjoy their favorites. However, there are a few little things you can do with your diet that will make your treatment go a little smoother.
Firstly, only drink water when you have your trays in, as colored liquids can stain the trays, and chewing could cause them to warp or break. Drinking plenty of water when you're wearing your trays is an easy way to keep them clean and stain-free. Also, it's best to cut down on any sticky foods that could cling to your teeth and become trapped against the trays, leading to increased tooth decay. Fortunately, these are all minor adjustments compared to what most people have to do with braces.
Will Invisalign change how I brush my teeth?
You'll be able to brush and floss your teeth like normal with Invisalign because you can simply take your trays out before you begin. The only change in your routine is that you'll need to spend a little time cleaning your aligners. Cleaning them will be very similar to brushing your teeth, but you may need to use a different brush/toothpaste to ensure that you don't damage your trays. Your dentist can let you know the best products to use when you begin your treatment so you can keep both your teeth and trays looking great the entire time.
Is there an age restriction for Invisalign?
We only recommend Invisalign for patients 18 and up, but fortunately, there is no upper-age limit! This is great news for those adults who previously thought it was too late for them to straighten their teeth. We have successfully used Invisalign to help hundreds of patients in their 30's, 40's, and 50's!
Any More Questions?
Hopefully this answered a few more questions you had about Invisalign clear braces in Denver, but if you have any more, we would love to answer them, especially in person! To schedule a consultation, all you need to do is contact us today. In the end, no matter what you need, the team at Pearl Dentistry will make sure you'll achieve the smile of your dreams in no time!
Comments Off

on Lifestyle FAQs about Invisalign in Denver
No Comments
No comments yet.
RSS feed for comments on this post.
Sorry, the comment form is closed at this time.