November 17, 2017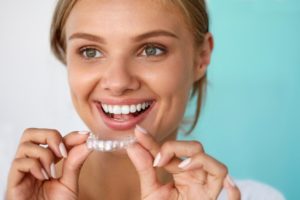 A new bar has just opened up in your area, so you and your friends are going to meet up and give them a warm welcome to the community (as well as sample some of their wares). You know everyone will have their phones out taking pictures aplenty, so you flash a quick smile in the mirror to make sure you're prepared. Of course, all you can notice is just how crooked your teeth are, and suddenly you're extremely self-conscious. You've wanted to straighten your teeth for years, but you just couldn't make yourself undergo the expense and hassle of orthodontic treatment just for aesthetic reasons. However, straightening your smile actually has numerous other benefits beyond improving your looks, many of which can directly impact your long-term oral health, and today, your dentist in Denver is going to share just a few.
Straighter Teeth are Healthier
Everyone knows that perfectly straight teeth look great, but did you know they tend to be healthier as well? When teeth are crooked and crowded, this can make it extremely difficult to brush all of their surfaces, leaving plaque behind that can cause cavities, gum disease, and numerous other dental problems.
When the teeth are perfectly aligned, they are easily brushed and flossed, helping a person avoid a multitude of preventable dental problems.
Straighter Teeth Work Better
Of course, your teeth aren't just for looks—they're essential to helping you speak and eat properly as well. Misaligned teeth can make these everyday activities feel uncomfortable and awkward. Often, crooked teeth will have sharp edges that irritate the surrounding soft tissues, or they can prevent a person from making certain speech sounds. Between that and their appearance, this can severely lower a person's self-esteem.
Straighter Teeth Makes Others Feel Better About You
Having straighter teeth will certainly make you feel better about yourself, but it will also increase other people's opinions of you. Decades of research have shown time and time again that people with a beautifully straight smile tend to be thought of as more attractive, intelligent, and professional, leading to greater success in both personal and business relationships. A quick search on the internet will lead you to thousands of stories about people who received orthodontic treatment, and afterwards, the world just seemed to magically open up to them. Whether it's just because of their increased confidence or their teeth, the results are still the same: straighter teeth can do much more than simply improve your appearance.
So the next time you're worrying about your crooked teeth and weighing the pros-and-cons of straightening them, you'll now have plenty of reasons to finally get the smile you've always wanted. And, thanks to treatments like Invisalign in Denver, you can now transform your smile without noticeable metal braces. Once you've corrected your smile, it'll be the absolute last thing on your mind the next time you go out with your friends.
About the Author
Dr. Jayme Glamm is a practicing general, restorative, and cosmetic dentist based in Denver, CO. She has helped countless people achieve the smiles of their dreams using cutting-edge dental treatments, including Invisalign. If you're ready to finally straighten your teeth, she can be contacted through her website.  
Comments Off

on Dentist Reveals the Top 3 Reasons to Straighten Your Teeth
No Comments
No comments yet.
RSS feed for comments on this post.
Sorry, the comment form is closed at this time.