June 2, 2020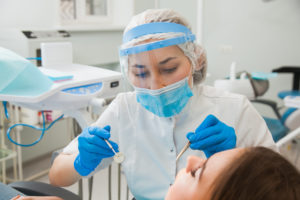 From wearing masks at the supermarket to conducting business meetings online, the COVID-19 pandemic has changed many aspects of our daily lives. Many health and safety protocols have been put in place in public spaces to help prevent the further spread of COVID-19 – including at your dentist's office. For example, the next time you go to get your teeth checked for cavities, you will notice that your dentist and their staff are wearing personal protective equipment (PPE). Curious to know how this can help you stay safe from the Coronavirus? Keep reading to learn about the 4 items of PPE your dentist in Denver is wearing to protect you and themselves during the pandemic.
What Is Personal Protection Equipment?
Personal protective equipment is equipment worn to minimize workers' exposure to injuries and illnesses. You have probably heard or read about PPE a lot in the news over the past few months, as it is critically important for frontline workers to wear to reduce the likelihood of Coronavirus transmission.
Personal protection equipment is not just for doctors and nurses, however. According to new infection prevention and control guidance from the federal Centers for Disease Control and Prevention (CDC), dentists and dental staff should also wear certain PPE items to help protect themselves and their patients from infectious disease.  
4 PPE Items for Dental Care Providers
Your dentist in Highland and their team are wearing the following PPE items to help make your next visit as safe as possible.  
#1: Surgical masks
While basic masks are commonly worn by many people in public these days, your dentist is wearing an ASTM Level 3 mask, which offers extreme protection against tiny liquid particles or gas in the air. 
#2: Eye protection
Saliva can easily splash around during certain dental procedures. For this reason, your dentist and dental hygienist are wearing goggles, protective eyewear with solid side shields, or full-face shields to protect themselves.
#3: Protective gown
Thin protective gowns can also guard against accidental splashes of bodily fluids. PPE gowns are typically designed to be discarded after each patient visit.
#4: Gloves
Touching a surface where the virus is present and then touching your mouth or eyes is a common way to become infected with the Coronavirus. That is why, along with frequent hand washing, your dentist in Highland puts on a fresh pair of disposable gloves before welcoming a new patient into their chair.
Additional Dental Safety Protocols
Personal protective equipment is just one piece of the dental safety puzzle. Your dentist has also implemented a range of new safety protocols at their practice in light of the COVID-19 pandemic, such as:
Pre-screening questionnaires and no-contact temperature checks
Sequenced patient scheduling
Hospital-grade hand sanitizing stations
Nightly deep cleaning
Social distancing in place
Thanks to the numerous new dental safety protocols, including the use of personal protective equipment, you can rest easy knowing that your next dental checkup will be in a clean and safe environment.
About the Author
Dr. Stefanie Walker, co-founder of Pearl Dentistry and voted a top dentist in Denver by 5280 Magazine, is committed to providing exceptional dental care in a safe and sanitary environment. She has gone the extra mile by implementing 25 new dental safety protocols to help protect her patients during the COVID-19 pandemic. To learn more about these new patient safety measures, visit the Pearl Dentistry website or call 720-440-9296.
Comments Off

on Your Dentist Wears These 4 Items to Protect Your Health
No Comments
No comments yet.
RSS feed for comments on this post.
Sorry, the comment form is closed at this time.