July 8, 2017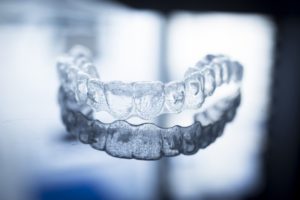 You spend a few extra moments in the mirror one morning, and after looking at your crooked, crowded, or gapped teeth, you've decided enough is enough. You're finally ready to get them straightened. Of course, you then run into the same problem you encounter whenever you feel this way: you're already self-conscious about your teeth, and the absolute last thing you want to do is bring more attention to them by getting noticeable metal braces. However, thanks to Invisalign, you can now get the straighter smile you've always wanted without a mouthful of metal. With Invisalign, you'll get the best when it comes to appearance, comfort, and efficiency with just one treatment.
What is Invisalign?
Invisalign is a revolutionary orthodontic treatment that completely does away with the traditional wire and bracket system. Rather, it utilizes a series of custom-designed clear plastic aligner trays to gradually straighten the teeth. You'll simply need to wear a set of trays (one for each row of teeth) for about 20-22 hours a day, and after about two weeks of this, you'll move onto the next set. Each one will bring you closer to that perfectly straight smile, and after you've worn them all, you'll be finished!
Invisalign vs. Metal Braces
While Invisalign might sound great, how does it actually stack up against metal braces? Quite well, actually:
Subtle Appearance: As the name implies, Invisalign trays are practically invisible on the teeth, meaning they won't alter your appearance while you're wearing one. Basically, the only thing people will see will be your beautiful results!
Convenience: The trays slip easily on and off of the teeth, meaning you can take them out whenever you need to eat or brush. Because of this, it'll be much easier for you to take care of your teeth than if you had braces, and you also won't need to alter your diet.
Comfort: Between its custom-design and smooth plastic, you'll barely feel that you're wearing an Invisalign tray after just a few days!
Time Saver: Because Invisalign doesn't have to be consistently tightened, you'll only need to come in for regular progress checks with your dentist just every 6 weeks, which is much less frequent than with braces. Plus, treatment with Invisalign can typically be completed in just 8-18 months, which is just a fraction of the time needed by traditional orthodontics.
Who Should Get Invisalign?
Invisalign was specifically designed to help working adults straighten their teeth discreetly and conveniently. It is also a great option for image-conscious adolescents as well as older patients who had braces as a child who need to straighten their teeth again. Altogether, Invisalign is the best way to get a straighter smile without interfering with your daily life. This is why it also tends to be the choice for many celebrities.
How Can I Get Invisalign?
The only way to get Invisalign is through a local cosmetic dentist. When you show up for your consultation, you'll have a chance to discuss what you hope to achieve, and they'll be able to let you know if Invisalign will work for you. If it can, get ready to love your smile in a matter of months! With Invisalign, you'll be seeing perfectly straight teeth in the mirror in no time!
About the Author
Dr. Jayme Glamm is an award-winning family, restorative, and cosmetic dentist based in Denver, CO. She believes everyone deserves to have a healthy, beautiful smile, and Invisalign is just one of the many ways she provides that to her patients every day. She currently practices at Pearl Dentistry, and she can be reached via her website, e-mail at info@pearldentistrydenver.com, or by phone at (720) 440-9296.
Comments Off

on Invisalign: Your Clear Path to a Straighter Smile
No Comments
No comments yet.
RSS feed for comments on this post.
Sorry, the comment form is closed at this time.