February 14, 2018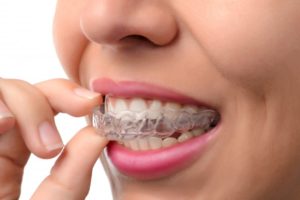 Whenever you look at yourself in the mirror, you can see it. The same goes for whenever there is a picture of you online. You can even feel it whenever you're talking to someone, so you're sure they notice it as well. Of course, we're talking about that gap in your teeth, the one that bothers you constantly. Fixing it is relatively simple these days, but you just can't imagine facing the world with a mouthful of metal braces. However, thanks to Invisalign in Denver, you no longer have to! Now, you can get the flawless smile you've always wanted without affecting your daily appearance.
What is Invisalign?
Invisalign is quickly becoming the most popular orthodontic treatment available today. Instead of using metal brackets and wires to shift the teeth, it instead utilizes a series of custom-made clear plastic aligner trays. A patient simply has to wear one set of trays all day for about two weeks, and then they progress onto the next. After they have gone through them all, any gaps they might have had will be a thing of the past. It's often able to deliver complete results in a year or less!
Invisalign vs. Metal Braces
More and more people are choosing Invisalign to fix the spacing in their smile, and it's no wonder, because it offers a number of advantages compared to traditional metal braces:
Subtle Appearance: The trays themselves are practically invisible when worn on the teeth, meaning you won't have to worry about other people noticing them. Only you and your dentist will know that you're straightening your teeth!
Comfortable: Every Invisalign treatment is custom-made for each patient using smooth plastic that fits easily among the gums and teeth.
Convenient: The trays are removable, so you can take them out whenever you need to brush your teeth or eat, meaning you can still enjoy your favorites throughout treatment!
Fast: Braces usually need about two to three years to address spacing issues, but Invisalign can accomplish the same in about 8-18 months!
Is Invisalign Right For You?
If there is a gap in your teeth that you would love to get rid of, then Invisalign is the answer you've been looking for. It's an excellent option for adults who want a more aesthetically-minded orthodontic solution. The first step to getting it is to simply contact your dentist in Denver. They'll perform a brief exam, and after determining that you have no outstanding dental issues (such as cavities or gum disease), they can start your treatment almost immediately.
From there, you'll get your first set of trays, and then it's just a matter of time before a gorgeous smile is there to greet you every morning!
About the Author
Dr. Jayme Glamm is a cosmetic dentist based in Denver, CO. She currently practices at Pearl Dentistry, where she and her team offer a wide variety of treatments specifically designed to beautify the smile, including porcelain veneers, direct bonding, and of course, Invisalign. If you would be interested in using Invisalign to close the gap(s) in your smile, be sure to contact her today for more information.  
Comments Off

on Get Rid of the Gaps Thanks to Invisalign
No Comments
No comments yet.
RSS feed for comments on this post.
Sorry, the comment form is closed at this time.