September 26, 2017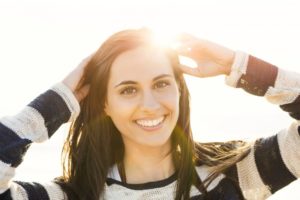 You've lived with several dental problems for years, and now you're finally ready to get your smile back, so you take to the internet to see if there is a dentist who offers everything that you need. You notice that many of them can help people in your particular situation, but the terminology isn't consistent–you see both "full-mouth reconstruction" and "smile makeover." They kind of sound the same, but are they? Which one would be better for you? Today, we're going to talk about the differences so you can know exactly what your smile needs.  
Full-Mouth Reconstruction vs. Smile Makeover
First, let's start with what makes these two procedures similar. They both involve using multiple treatments over the course of a few appointments in order to help a patient who has various, interrelated problems with their smile. After an oral exam with a dentist, the doctor will formulate a plan and choose which specific treatments are required to meet the needs of a patient.
In truth, these terms are often thrown around interchangeably, but there is a subtle difference in the kinds of problems they are intended to address.
A smile makeover, as you might be able to guess, is more aesthetically oriented. It can help a patient who wants to drastically improve the appearance of their smile, whether that means whitening their teeth, fixing small chips or gaps, restoring teeth that have become damaged, or all of the above. The end result should be a flawless smile that looks like one you'd see in the movies and on TV.
While a full-mouth reconstruction can accomplish this as well, it is more focused on improving the function of the teeth as well as their appearance. This is where the two treatments diverge. A person who needs a smile makeover will have teeth that basically function as they should, enabling them to eat and speak comfortably. If they need a full-mouth reconstruction, however, this may not be the case.
Patients who could benefit from a full-mouth reconstruction usually have foundational issues with their smile, whether that be because of broken teeth, missing teeth, or issues with their jaw alignment. The first part of a full-mouth reconstruction is intended to help a patient's mouth function normally, and then a dentist can move on and enhance how their smile looks.
Which One is Right for Me?
This can only be answered by a dentist. You might believe a makeover is all you're looking for, but your dentist may find a bigger, underlying dental issue that could actually be the cause of your cosmetic problems. When you go to visit your dentist, simply let them know about everything you don't like about your smile, and with a thorough exam, they'll be able to determine what you need. From there, all you'll need to do is show up for your appointments and follow your dentist's instructions to get the smile you truly deserve.
In the end, it doesn't really matter what your treatment plan is called just as long as you get all the care that you need. If you've been dealing with multiple dental issues for years that make it difficult for you to eat, speak, or smile with confidence, don't lose hope– be sure to contact a dentist in your area today, and they'll know exactly how to help.
About the Author
Dr. Stefanie Walker is a family, restorative, and cosmetic dentist based in Denver, CO. At her practice, Pearl Dentistry, she's able to handle extremely complex dental cases using highly-coordinated treatment plans that can help even the most damaged smiles. For questions about everything you've just read, she can be contacted through her website or by phone at (720) 440-9296.
Comments Off

on Dentist Discusses Full-Mouth Reconstruction vs. Smile Makeover
No Comments
No comments yet.
RSS feed for comments on this post.
Sorry, the comment form is closed at this time.