December 20, 2018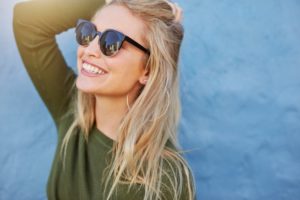 For decades, actors, singers, and models alike have all relied on porcelain veneers to give them a perfect and pristinely white smile. Now, you're thinking about getting them for yourself, but you need more information first. How will they change my teeth? What is the procedure like? How much do they cost? These are all great questions to ask, so today, a cosmetic dentist in Highlands is going to answer all of your top porcelain veneers FAQs!
1. What are porcelain veneers?
Porcelain veneers are actually extremely thin ceramic shells that are applied to the front of the teeth using a strong dental adhesive, and this enables them to drastically change the appearance of the smile and cover a wide variety of flaws all at the same time.
2. How can porcelain veneers change my smile?
This treatment can change the shape, size, and color of a patient's teeth to whatever they want, meaning it can completely eliminate multiple cosmetic imperfections simultaneously, including:
Stains that don't respond to bleaching
Chips
Cracks
Gaps
Slightly misshapen or undersized teeth
Slightly crooked teeth
3. What is the procedure like?
After a consultation with your dentist in Highlands where you both decide that porcelain veneers are the best way for you to achieve your smile goals, the procedure will unfold over the course of two appointments.
At the first one, your dentist will gently remove a tiny amount of enamel from every tooth that will be covered by a veneer—this will ensure that they lay flat and look natural. They'll then take an impression of your prepared teeth and send this to a dental lab to fabricate your veneers. While they are being made, you'll be fitted with a temporary set.
A week or so later, you'll return to your dentist, and they'll swap your temporaries for your permanent veneers. After checking their fit and your bite one last time, you're done, and your new smile will be ready to show off!
4. How much do porcelain veneers cost?
A single veneer that covers one tooth can cost anywhere between $925 to $2,500 depending on the size and state of the tooth as well as the material used to make the veneer. For patients concerned about the cost, most practices offer low-to-no interest financing options that are easy to qualify for.
5. How do I pick the right dentist?
When choosing a dentist to do your porcelain veneers, the best place to look is their website. Make sure that they actually offer porcelain veneers, and better yet, check out their smile gallery. This will show you pictures of patients they've helped in the past and allow you to judge the quality of their work. If that all looks great, go ahead and give the office a call to schedule a consultation so you can meet the team.
Hopefully this answered your most pressing porcelain veneers questions! Of course, if there is anything else you'd like to know, it's best to just contact a cosmetic dentist in your area and ask. Once you've gotten all the information you need, then there's nothing to stop you from turning your dream smile into a reality.
About the Author
Dr. Jayme Glamm is a cosmetic dentist based in Denver, and nothing makes her happier than to give a patient a smile that is healthy, strong, and beautiful all at the same time. If you have any other questions about porcelain veneers, she invites you to contact her through her website and ask whatever you like.  
Comments Off

on Cosmetic Dentist Answers Your Porcelain Veneers FAQs!
No Comments
No comments yet.
RSS feed for comments on this post.
Sorry, the comment form is closed at this time.